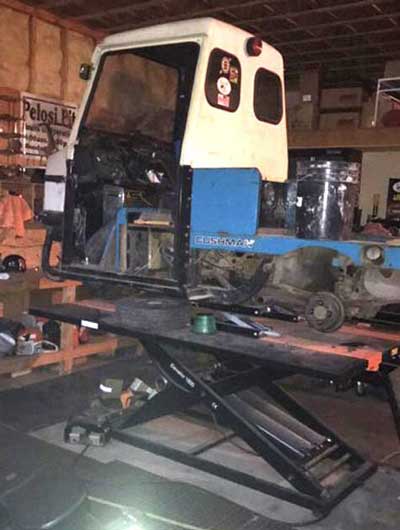 Thanks to Mark of Pelosi Family Farm in Epping, NH, for sharing this nice pic of his 1984 Cushman Truckster on the Elevator 1800 lift table! The truckster is a small, light duty utility cart. First one we've ever seen on this lift - very cool!
He tells us the lift is "awesome" and we're glad to hear that!
I was curious about the Cushman Truckster and its purpose on Mark's farm. He tells me, "It originally came from the Framingham Police Department a friend of mine bought it at an auction we believe it worked on a tree farm after that and Massachusetts it now resides at my home and Epping on a strawberry farm we also do sweet potatoes asparagus and melons."
Made with thick 10 gauge steel, this lift table is rugged enough to handle the heaviest vehicles. With a rectangular base on a quality frame, this footprint upholds safety with both lifting and working. Wheel dolly can be used on this lift, and the base frame is also pre drilled to accept a wheel kit for easy placement and storage. A safety locking mechanism is built into the base with 4 and 5 settings, depending on the model, to adjust to your height.

This heavy duty lift table comes with a 2 year warranty and is manufacured with the highest degree of quality. Call us at 603-234-2612 and we can go over package options with you.