[caption id="attachment_1492" align="alignleft" width="250"]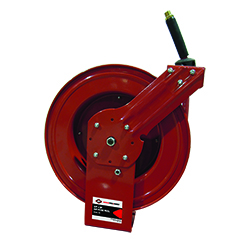 New hose reel from AFF[/caption] We've just uploaded some new AFF products to our website, including hose reels and swivel bench vises. Model
760 hose reel
dimensions are 3/8" X 50'. It is made of heavy steel construction, which adds durability and longer life cycles. It includes a rubber air hose with heavy duty crimping and spring guard ensure longevity. Its mounting base is slotted and roller arm has five positions for multiple mounting configurations. Automatic return via a heavy duty sealed spring with eight locking stops, roller guide and ball stop. 3/8" NPT. 300 psi maximum pressure 25 cfm. Shipping Weight: 40 lbs. Model
761 hose reel
dimensions are 1/2" X 50'. It is made of heavy steel construction, which adds durability and longer life cycles. It includes a rubber air hose with heavy duty crimping and spring guard ensure longevity. Its mounting base is slotted and roller arm has five positions for multiple mounting configurations. Automatic return via a heavy duty sealed spring with eight locking stops, roller guide and ball stop. 1/2" NPT. 300 psi maximum pressure 35 cfm. Shipping Weight is 52 lbs. (though both of these hose reels come with free shipping).
3943 Swivel Bench Vise
for General Duty - 8" has replaceable hardened steel serrated jaws, built-in pipe jaws 3-1/2" capacity, 8" Maximum opening, 4" Throat depth, Large anvil surface, and 360° swivel base with 2 locking handles. Other Swivel Bench Vises available. Please check them out in out under our new products tab on the home page or visit
https://www.nhproequip.com/american-forge-foundry-automotive-service-equipment
More to come! Please check our
New Products
link in the red bar at the top of our website to see the latest!