We have some Curtis compressors in stock, including the CT Series 60 gallo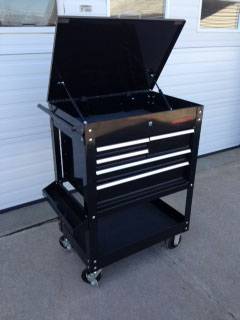 n and 80 gallon compressors. We also have a Gas Driven Curtis Compressor w/Honda Engine. AGAIN, ALL IN STOCK. THEY INCLUDE FREE SHIPPING, AND OF COURSE, NO SALES TAX. **CALL CLARK 603-234-2612 OR VISIT NHPROEQUIP at 1298 RTE 3A IN BOW, NH** Gas-driven models are ideal for applications that require air when electricity isn't readily available. FS-Curtis gas-driven models are perfect for fleet and service applications. *Honda engine OSHA-approved totally enclosed metal belt guard ASME-approved air receiver 12V DC starter with alternator Engine idle control
SPECIFICATIONS HP: 13 Model: CA13-H Basic Pump: E50 CFM @ 175 PSI: 22 Engine: Honda Tank: 30 GAL Dimensions (In.) 50 x 24 x 50 Weight: 460 lbs We have a few pieces that might be of interest that we'd like to share.
Mechanic's rolling tool cart
This is a 5 Drawer Toolbox with a closing lid, 2 Gas Struts, and a sturdy handle. It includes an accessory tray mounted on the side and comes with 5" ball bearing wheels, 2 swivel, 2 rigid. It also features storage on each side for long extensions, prybars, screwdrivers, etc. There also is a storage tray at the base. AVAILABLE IN BLUE, RED, OR BLACK (PLEASE CALL TO CONFIRM COLOR SELECTION AS THEY ARE SELLING OUT).