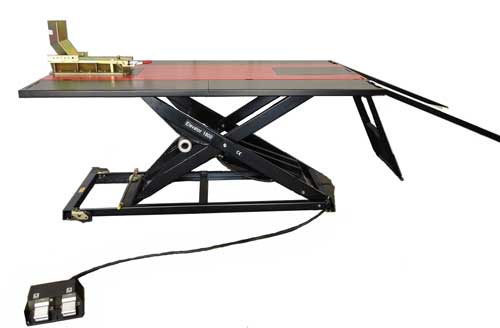 We wanted to provide some more detail about our new Elevator series lift tables. We are proud of their quality and versatility and thought a write up might help to further illustrate these points. These lifts are designed and crafted to last for years; they are not your average products. We guarantee that when you receive your lift you will be totally impressed with the quality, workmanship, and materials used in manufacturing. Spending many thousands of dollars on whatever you ride (motorcycle, ATV, UTV) is commonplace. Don't trust an inferior product to lift your pride and joy off the ground! Elevator lift tables are made with thick 10 gauge steel, rugged enough to handle the heaviest vehicles.
We start with a quality frame and rectangular base, a footprint that ensures safety in lifting and safety in working. The base frame is fitted with a tow bar that accepts a wheel dolly. The base frame is also pre-drilled with to accept a wheel kit, allowing for easy placement and storage. A safety locking mechanism is built into the base with 4 and 5 settings, depending on the model, to adjust to your height. The scissor assembly is built rugged enough to keep the table top square to the base during lifting; it picks up and lowers the load smoothly without effort. You will never have to doubt the capacity of your lift. The lifting is guided by large bearings that roll along the tracks which are 2 to 3 times larger in diameter and width to the size of competitors. The lifting mechanism is very impressive to see in person and smooth to operate. The Elevator 1800 is equipped with two large air cylinders, side-by-side, again allowing smooth operation.
The Elevator 1100 is equipped with a single large air cylinder and both require very little air because of their efficiency. The table top is reinforced underneath with square tubing, welded and fitted for strength. The table top has unique features that make these lifts favorites. The 1800 lb has two drop down panels, one for rear tire service and one for front tire service, and both operate with quick squeeze linkage for release and lock. The 1100 lb model has one drop down in the rear only. The table top is also fabricated with square receiver holes spaced to accept the (4 pc.) side extensions. They slide in in seconds and can be removed just as fast. No piping, clasps or pins to install.
The wheel chock mounts into brackets on each side which allow the chock to slide in and out as needed, very quickly. This accomplishes two things: quick mount and dismount of the wheel chock. After you secure a motorcycle to the lift, just slide the wheel chock out of its mount, drop the panel, and remove the front wheel. Secondly, if the lift is a little short for your vehicle slide the wheel chock off the front of the table lift and add 9"-10" of length to your lift by extending the wheel chock. Equally spaced cutouts on the side edge of the table provide ratchet strap holes. If you choose to purchase side extensions, they mount with male square, each of the 4 piece side extensions has 2 male squares for mounting into the 2 female receivers in the lift table. You end up being able to configure the lift with any number of side panels you want to use. For example 2 in the front, or two in the back, or all 4. You can mount trikes, spyders, ATVs, UTVs, mowers, snowmobiles, golf course equipment etc. Two long ramps are included in the side extension kits.
We offer a fully adjustable wheel chock, 6 positions adjust for depth of wheel cup, narrow and a wide tire adapters, and a quick lock lever foot operated during loading. It is mounted in side rails for easy positioning or removal. We offer complete packages for both the 1100 lb capacity and 1800 lb capacity lift table. We also offer basic packages, you can order only the accessories you need. The quality is superior in whatever you choose, you will not be disappointed. If you don't order the full packages, optional equipment for base lifts includes, side extension kits, wheel chock, dolly and wheel kit, scissor jack,110v electric upgrade. The Elevator 1800 lb lift table raises 40" max height and 8" lowered height. The high lift accommodates people of all heights. The Elevator 1100 lb. lift table raises 35" max height and 8" lowered height.
NEED A MOTORCYCLE LIFT TABLE? NEED A SNOWMOBILE LIFT TABLE? (1100lb and 1800lb capacity available) NEED A LAWNMOWER/LAWN TRACTOR LIFT TABLE? (1100lb and 1800lb capacity available) NEED A GOLF CART LIFT TABLE? (1100lb and 1800lb capacity available NEED AN ATV LIFT TABLE? (1100lb and 1800lb capacity available) NEED A UTV LIFT TABLE? (1800lb capacity only) For complete specifications, check out links above. Choose weight capacity and click on the link for your specific vehicle.