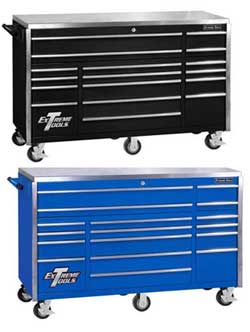 Extreme Tools has been a trusted name in professional grade toolboxes since 1999. (As a side note, they were featured on the front cover of the Professional Distributor Magazine in 2004!). As Extreme states on their website, their goal "has constantly been to design and build high quality tool boxes for the industrial, automotive, and retail markets at a much lower price than our competitors." They have succeeded at that. These boxes are truly quality for the money you spend; check out the specs below and you will see how well these boxes are made.
The EX7217 rolling tool box is a serious toolbox, by any standard. This 11 gauge steel frame box comes equipped with full extension drawers with heavy-duty ball bearing glides. The stainless steel top included with this toolbox is rated for 1,500 lbs. Each single glide drawer is rated for 300 lbs. Each double glide drawer, a whopping 600 lbs!. The high gloss powder-coated finish makes this box not only look great but durable in any garage or workspace.
Call 603-234-2612 for more info or stop by 1298 Rte 3A in Bow, NH and check them out in person! Or check out the Extreme Tools EX7217RC 72" Rollcab Toolbox on our website.
Warranty
Extreme Tools®, Inc Limited Warranties warrant our products to be free from defects in materials and workmanship from the date of original purchase for the specified period of time as outlined below: Limited Lifetime Warranty applies to all EX Professional Series models: EX2404SC, EX5501HC, EX5510CH, EX5511RC, EX7201HC, EX7215CH, EX7217RC, EX7612RC only.
Extreme EX7217RC Roller Cabinet Features:  • Dimensions: 72" wide x 30" deep x 44 3/4" high • Available in Black and Blue • Exclusive Patented Design • (6) casters (6" x 2") 4 locking casters and 2 swivel casters • Cabinet is easy to maneuver, even with tools • Stainless Steel Top creates a 71 3/4" x 29 5/8" work surface • Top work surface rated for 1500 lbs. and is capable of holding an automotive engine block • Tool Box frame uses 11 gauge steel for stronger chassis • Heavy-duty anodized handle fits on either side of cabinet • Theft proof lock system • Extra deep, high gloss powder coat finish • Full extension drawers use extra heavy-duty ball bearing glides • Full-width extruded aluminum polished drawer pulls • Single-glides load rated for 300 lbs. per drawer • Double-glides load rated for 600 lbs. per drawer • Locking security drawer keeps valuables safe while tool box is open • EVA high-density drawer liners included