We have an amazing repertoire of inventory right now that we figured we should announce! Now that we have our new warehouse, there is plenty of room to house product, and we'd like to share what we have in stock at the moment. *Please note current inventory is always changing. Please call us to find out the latest stock. 603-234-2612.
We have a couple CRX552520SET Tool Box Sets right now. This is a 55" x 25" rollcab and top chest set in blue. These are excellent quality sets that include a free mag wheel upgrade. Dimensions of the rolling cabinet are 54 5/8"W x 25"D x 46"H.  Top tool chest dimensions are 55" W x 25" D x 22.25" H.
More info: https://www.nhproequip.com/55-rolling-tool-cabinet-and-55-top-chest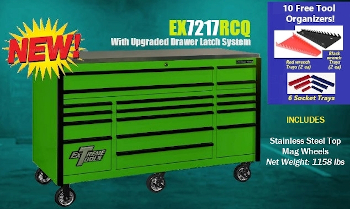 We've also got an incredible buy right now - Extreme Tools EX7217RCQ rollcab that has had recent upgrades to the old EX7217RC model! This 72" x 30" D Roller Cabinet w/ Stainless Steel Top features New Upgraded Quick Latches and Mag Wheels. And..Right now we're offering free tool trays with purchase!

More info: https://www.nhproequip.com/ex7217rcq-extreme-72-roller-cabinet-w-stainless-steel-top-quick-latches-mag-wheels
For you ATV and UTVers, we have the PRO 2500U back in stock! With a whopping 2500 lb capacity, this lift raises to 48".  Includes a 4 piece panel (quartered) side extension kit (17 1/4" W x 46" L) with 2 ramps 40" L x 17 1/4" W, and it is ideal for ATVs, UTVs, 3 wheelers/Trikes, spyders, 4 wheelers/quads, and side by sides.

More info: https://www.nhproequip.com/pro-2500u-48-high-rise-air-atv-utv-lift
(If you prefer, we also have Elevator 1800s and Elevator 2000E lifts in stock right now.)
Automotive lifts include the 8000lb capacity 4 post storage lift PRO 8000-DX-XLT. It comes standard with poly casters and drip trays, along with a jack/tool tray. Features lifting height of 82.3". Features non-skid diamond plate runways, slack-cable/safety device system, adjustable lock ladder leveling, and single point, manual lock release.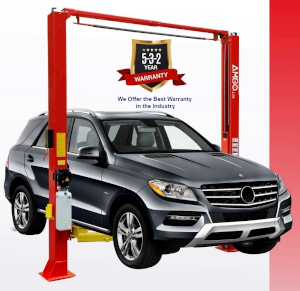 We also have the 10000 lb 2 Post Lift Clear Floor Lift (#OHX-10), featuring super asymmetric arms that allow you to load different vehicles in an asymmetric or symmetric configuration, as well as the OHX-10H model, which is designed with asymmetric arms but also can be configured with symmetric height and width adjustment.
Adjustable for high ceiling with extremely high lifting capacity up to 168".
Please note we have many more tool boxes available that also come with free tool trays right now! Visit our website for all the latest tool box sales.
We also have lots more inventory in stock! These are just highlights. We have compressors, plasma cutters and welders, tire equipment, and much more.
Please call us or visit https://www.nhproequip.com to learn more about our products! Stay tuned for our next blog installment - drone footage of the shop, warehouse, and the grounds!