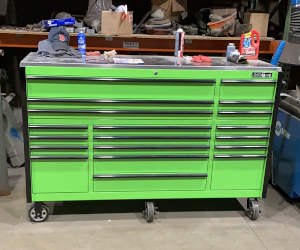 James shared this nice photo of his green CRX722519RC Tool Cabinet with black trim! (manufactured by Extreme Tools, and branded by RollCabs.com). When we asked him how it was working for him so far, he said, "Good, I like it." This particular model has proven to be one of our more popular tool boxes. A three bank tool box, it measures 72" wide and 25" deep, and stands 47" high. With 19 drawers there is plenty of room to organize your tool set. It has a mix of long, deep, narrow and wide drawers which offers lots of versatility.

The top drawer is 51" wide x 5.8" high, which makes it the perfect size for socket trays and deep sockets or power tools to be displayed -- no more drawer jams! The 2 drawers below it are also 51" wide x 2.8 " high and allow for long pry bars, extensions, screwdrivers, and other hard to store tools to be locked up.
In all, 25 sets (50) ball bearing glides are used, there are 6 drawers that are deep enough to accept 2 sets of ball bearing glides. These drawers are rated at 300 pound capacity. The remaining 13 drawers are rated at 150 pound capacity, with one set of glides.
All drawers are full extension drawers and pull out to the back, so you can find all your tools. All wide drawers have reinforcing support panels spot welded under the drawer, which supports heavy loads and keeps the inside of the drawer open for full storage use.
Learn more about the Rollcabs.com CRX722519RC Roller Cabinet