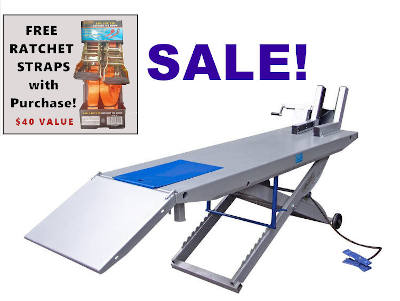 We have a very special New Year Deal going on now! Buy a PRO 1000 Motorcycle Lift, Receive a FREE pair of Ratchet Straps. This is a two-pack ratchet tie down set with 2500 lb capacity, 1 1/4" x 15' ($40 value), for securing your motorcycle on your new lift!

RIGHT NOW, GET $100 OFF REGULAR PRICE FOR STORE PICK UPS! Regular price is $1795; pick up your lift in Bow, NH, and pay only $1695.

This lift table package deal also includes a 1 year warranty, and a rubber lined wheel vise with wheel stop ($200 value).
The PRO 1000 lift table is air-powered and features 1000lb lifting capacity. With an extra large platform, it is ideal for working on motorcycles--and with optional side extensions--ATVs, mowers, jet skis, and snowmobiles. The table features a 30" working height, with a low height of 7." Table Dimensions are 84" x 24." Table Dimensions with optional sides are 84" x 48." Shipping Weight is 420 lbs.
NHPROEQUIP.COM ☎ 603-234-2612 ☎ 1298 RTE 3A BOW, NH 03304
FREE PICKUPS ! 👍 FREE LOADING! 🌟 NO SALES TAX!
✅ IN STOCK NOW! PICK UP TODAY! ✅
🌟 SIDE EXTENSION KITS IN STOCK🌟