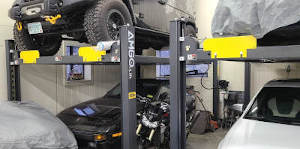 Erik of Erik's Import Autoworks in Marlborough NH tells us his (2) Amgo Hydraulics (model 408-P) storage/parking lifts are "Excellent!" and he shared these pics of the lifts set up at his shop.
The 
AMGO 408-P 4 Post Lift
is a space-saving powerhouse - it's the best service lift for shops and home car ports with limited floor space. The 408-P requires no special foundation or complicated installation. One of the best commercial or private use lifts in the world, the 408-P is the perfect choice for commercial shops or residential car ports. Features 8,000 lbs capacity.