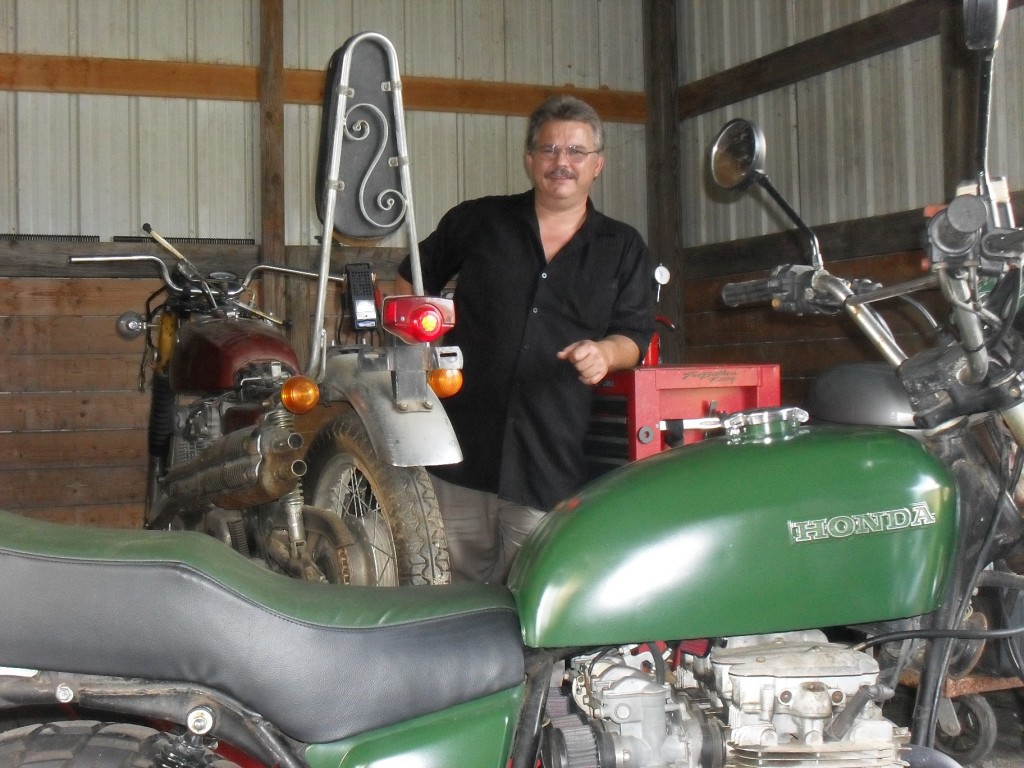 Floyd poses with his recently completed 1980 Honda CB650C converted to a scrambler (foreground) and a barn fresh 1970 Honda CL450 factory built scrambler that needs a total restoration.
As you know, I'm not a biker. I'm interested to hear about how you got into it, why you do it, what you get out of it?
I started with dirt bikes when I was kid. Some of my friend and relatives had them and I had to have one too. I was quite content to have that at the time, then from about age 15-20, I didn't have one, but then got back into it with street bikes. Got started into repairing them and customizing and restoring them because of bad experiences with shops.
Did the shops have difficulty with the restoration or were they poorly executed jobs?
Well, one put the brake pads in backwards, I noticed it was sort of stopped, but they were making an odd noise like metal on metal, and that's when I decided to take care of things myself. I do restoration and customization part time for the money and I still charge people to do it. I'm in a situation where I don't have to do it, but every time I put out an announcement that I'm not going to do it anymore, I end up with more business! I just finished restoring an '85 Goldwing SEI that took a few months. That was just completed a few months ago.
Any other interesting projects lately?
Most of what I've done recently are pretty well laid out in my blog. If you look at the green motorcycle in the pic, the tank is from 1974 Honda CB750, I custom welded the rear fuel tank mounts, swapped out gauges for older model gauges from a 1976 model. One of the things I also do is custom build bicycles, my wife tells me the way I do things, they look like a factory job, and that might be my single biggest weakness because you can't tell how it originally looked in the beginning. After an accident my wife got me a used Kawasaki Ninja that had been abandoned at a dealership. Someone had taken it to dealership to be repaired, the dealership gave them an estimate, and the owner never came back for it. It went up at auction. It was one I had expressed an interest in.  I like smaller motorcycles and scooters.
What are some of the best road trips you've been on?
I used to pick places, like, 200 miles away, pick out a restaurant that far away and go to it! I went to Daytona Bike Week a long time ago. I would like to do more long distance riding again. Now that I've gotten back into it, I've concentrated mainly on things I've been doing in the garage. I usually have just as much fun working on a motorcycle as I do riding one. Saturday was the first time I've ever towed a motorcycle to an event in my entire life, but it was the first event [Bull City Rumble] I've been to since I had the crash six or seven years ago.
Why did you bring the motorcycle?
I entered it into the show. For me, entering was just for fun. It's like a juried art show; judges go through and pick out the ones they like the best. I once went to a custom bike show in NC and they did popular choice voting, but the vast majority have a judging panel. They are looking for combination of originality and craftsmanship in classic bike category. In a restored motorcycle you're looking for one that looks as close to what it looked like the day it was bought. The weird thing is you can take a fully restored motorcycle that looks just like it did when it left the factory, and if you compare it to one that's never been redone, the judges will pick the original, if it's still in good condition. These guys are judging, it's like people judging a beauty contest. What looks good to them isn't always what looks good to us.
What's the best part of the biker lifestyle?
It's a great community with all kinds of people. There's a point there might be snobbery amongst some but if you want to start a conversation with someone, pick something you like about their bike and ask how did you make that, where did you get it, etc. then you might see that person down the road 10 years later and you recognize them. I do keep in touch with some people I've met, such as a fellow blogger who lives in Wisconsin, I keep in touch with him, I have a friend who lives in Delaware now who I'd ride with to get the 200 mile hamburgers! He's been across the country on several of his Harley Davidsons. He's put 100,000 miles on each of the ones he owns.
You've mentioned you are into European and Japanese bikes. What is it that draws you to these bikes?
I tend to like middle size ranges 500-900ccs. I like lightweight, good handling motorcycles. Larger longer motorcycles are more stable in a straight line, but they don't turn as well. It comes down to obeying the laws of physics. The laws of physics are one set of laws I don't know how break! I have in my shop right now an 1800cc Honda that although very comfortable on the highway, actually worries me a bit to ride it on the dirt road I live on because it weighs nearly a thousand pounds.
What bikes do you prefer?
Lots of different old Hondas. Another brand I was looking at is called Moto Guzzi, it's a quirky Italian motorcycle. Really cool, moderately expensive. They cost a little more than Japanese motorcycles, but are not nearly as expensive as Ducati or Aprilla. They have an unusual engine configuration, V-twin like a Harley Davidson. But it is turned sideways in the frame, so instead of being front to back, they turn sideways. They have a shaft drive on them like a car. They have this wonderful long history going back 80 something years. I like oddball things. Around here that would be very oddball. At the time I crashed I had a 79 Triumph from England that I was restoring - I did not finish it and I sold it. Kawasaki Ninjas are a perpetual thing, the ones that I really like in that vein are pretty much the early superbikes when they first started coming out with those in the mid-80s and early 90s. It doesn't really matter what manufacturer. They give you about 90% of the performance you can get from the newest models, the seating is more comfortable, and they are bigger, though not necessarily in engine size. On the newer superbikes the chassis size is so small and the engines powerful. They are fun to ride, but they are uncomfortable. On newer supersport bikes, the handlebars are a lot lower. They're a lot of fun and I like them, but not riding to work 60 miles and back. The older sports bikes were a lot more comfortable because the seat position was not as extreme. Some examples of early superbikes: Honda Interceptor, the original Suzuki GSXR, original Kawasaki Ninjas, and Yamaha FZR. I also had a 1980 cb750F Honda - I bought 3 for $300 took parts from each and made one bike. When I sold it 10 years later, it had 136K miles on it. Only in the last 3-5 years fuel injection has caught on in all forms of motorcycles. Interestingly enough the 1985 Goldwing restoration that I did has computer controlled fuel injection; it also has a built in air compressor, automatic leveling suspension, built intercom system, and a tape deck. It even has heater ducts for winter!
Lastly, you mentioned you were going, so I have to ask: How was Bull City Rumble over Labor Day?
It was neat, there were several hundred bikes. One of the most interesting things was a motorcycle owned by Gary Nelson, he is a designer for Nascar, he was the designer of the NASCAR "Car of Tomorrow" back in 2007. He has a CB750 Honda, and I had seen it at the Charlotte International Motorcycle Show, but of course, it's one of those fancy things where the show bikes are parked up mirrors and roped off, so can't you can't get too close to them. Well at this show he had it parked right on the street so you could get close to it. I even got to talk with him about a little bit, too.
We thank Floyd for his time and interesting conversation! You can visit Floyd and read about his restoration and customization projects at http://motopsyco.com/.