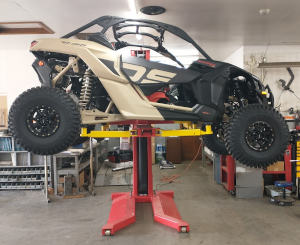 Ron shared this pic of a Can Am getting a lift on the
SML-6 Single Post Lift
. He says,
"Love it, great tool.. we have a fabricator coming in to make supports for narrow Side x Sides... Can ams. It's perfect."
The SML-6 has a maximum lifting height of 77 1/8″ and a minumum height of
4 1/8″.
It also features self-lubricating UHMW polyethylene sliders and bronze bushings and high quality cylinders and power units. A perfect choice for anyone working on vehicles - from repair shops to homeowners - who doesn't want to tie up space.