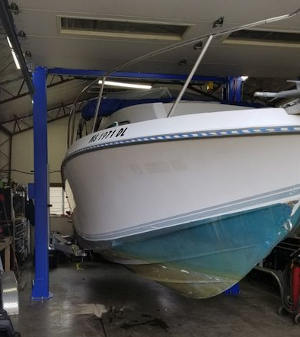 We really have awesome customers. Dave in Barre, MA (Dave's Small Engine and Auto Repair) made a point of reaching out to us on Facebook to ask if we'd like him to share "some pretty awesome pictures of my lift picking my boat off the trailer." Of course we wanted to check them out! Dave purchased a PRO 11000C-DX 2 Post Lift and it sounds like it was just the right size for the width of the trailer, from what he tells us.

He went on to explain: "That boat is 26 ft long and is 4400 lb empty. I was super stoked to find out that my trailer was only a 101 in. wide giving me enough room to literally Drive the boat and trailer through the lift. My previous lift was a 9000 pound that only had 94 in. between the columns I do Small Engine & Automotive Repair from home. Although it's not an official business at this point I am just using the income to help stay afloat in this time of Chaos in this circus of a country!! I will add some pictures of a modified ATV lift that I use the arms of this Automotive lift to stand lawn tractors up to work underneath."
This 11,000 lb. two post direct drive lift clear floor lift was built with versatile, user-friendly bi-symmetric configurable arms, 3 stage front arms, symmetric columns, low profile arms, single point lock release, rubber door guards, and spin up pads with 2" and 4" stackable truck adapters. Featuers 180 degree front arm full-rotation.
Specs on this lift:
11,000 lbs. capacity
144" Overall HeightPower: 220V - 20 AMP - 1 PH
145-1/2" Overall Width (Including Power Unit)
104" Drive-Through Clearance
71" Height (Max)
4" Pad Height (Min)
116" (Width Between Columns)
50S (Lifting Speed)
1,705 lbs. Ship Weight