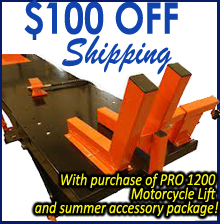 I feel like as soon as July rolls around it's officially summer. And with summer comes more great deals! We are currently offering shipping discounts on select motorcycle lifts, tire changers, and wheel balancers. When you purchase a PRO 1200 or PRO 1200SE motorcycle lift table package, along with a summer special accessory package, you can get $100 off shipping! If you are shopping online, please use discount code SHIP100 on the checkout page and $100 will be subtracted to your shipping charge. The PRO 1200 ($699) and PRO 1200SE ($868) both include wheel vise, loading ramp, front extension, drop through/pullout for rear tire change, and one year warranty. They feature pneumatic operation and 7 position safety locking system. The SE model also includes side extensions. There are 2 summer special accessory packages to choose from in order to get your $100 shipping discount. Customers have a choice of a service jack and roller plate for an additional $139.90 or a service jack roller plate and seat creeper for $169.85. Both packages have been discounted, as well, as part of the launch of this summer savings event. Again, purchase a lift and summer special accessory package = $100 off shipping! Not a bad deal! Please note that the accessory packages may only be purchased with a lift. We are also offering PRO Series tire changers and one wheel balancer are now exclusively offered with shipping discounts with a special coupon code. Order a PRO 900A WB Wheel Balancer, PRO 928 PLUS TC Tire Changer, or a PRO 920 PLUS TC Tire Changer and receive $150 off shipping of each unit with coupon code SHIP150 at checkout. For customers who order a combo tire changer/wheel balancer (a combination of same models listed above), Clark Heintz is offering $300 off shipping. Please use coupon code SHIP300 at checkout. Check out our home page for links to all the sales!
https://www.nhproequip.com/
Please call Clark Heintz Tools & Equipment LLC at 603-234-2612 or visit their shop at 1298 Rte 3A in Bow, NH.