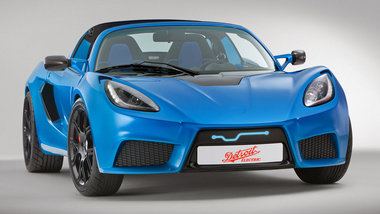 Detroit Electric SP:01 all-electric sports car (courtesy image) DETROIT- The name may only be two letters, two numbers and a colon, but the SP:01 is anything but insignificant. The new all-electric two-seat sports car is the first vehicle from the new Detroit Electric, a resurrected name brand made popular in the early 1900s for electric vehicles.
Detroit Electric chairman, founder and CEO Albert Lam, Detroit Electric Head of Design Jerry Chung and other officials unveiled the vehicle Wednesday night in Detroit's iconic Fisher Building, where the company's new headquarters will be located. "It's the fastest pure-electric production vehicle on the planet at the moment," Lam said during the vehicle's unveiling.
The 2,403-pound carbon fiber and aluminum vehicle, which will start at $135,000, features an up to 180-mile driving range (about 100 miles in "fun" driving conditions), top speed of 155 miles per hour and a zero to 62 mph rating in 3.7 seconds. Its closest competitor, the all-electric Tesla Model S has a top speed of 130 mph and goes from zero to 60 in 4.2 seconds. Powering the SP:01 is a compact, mid-mounted 201 bhp electric motor (delivering 166 lb ft of torque), a lightweight, purpose-designed battery pack and all-new carbon-fiber bodywork. But SP:01 -- an acronym for "Sports Pure" and originally a code-name for inside the company called "Sports Prototype 01" -- is more than a sports car, according to Lam. The vehicle's capabilities range from controlling nearly everything in the vehicle with a smart phone and advanced infotainment system called "SAMI" (Smartphone Application Managed Infotainment) to powering a house for more than two days.
"This is not an innovation, it is a must for the future of electric vehicle," Lam said regarding the vehicle's '360 Powerback' system that can restore power to the home using its stored energy during a power outage. "That's why it is not just a vehicle." The SP:01 will be assembled at an undetermined Detroit Electric production site in Wayne Country, Michigan. The dedicated facility will have an annual capacity of 2,500 vehicles and plans to create about 180 manufacturing and sales-related jobs over the next year. The company plans to make 999 Detroit Electric SP:01 models, followed by two mass-production all-electric vehicles. Lam said the next two vehicles – a hatchback and sedan -- will feature the same technologies as the SP:01, but will be affordable "for every day practical usage of an electric vehicle." "The name of the company is Detroit Electric and Detroit is the birthplace of the modern automobile industry," said following comments from Don Graunstadt, Detroit Electric CEO of North America Operations, before the unveiling. "Detroit is where something like this is supposed to happen."
Actually making all of Detroit Electric's plans a reality may be easier said than done. The all-electric sports car market is an extremely niche market and others, such as California-based Fisker Automotive and Tesla, are having trouble surviving. Karl Brauer, editor in chief and CEO of TotalCarScore.com, previously told MLive that it is an odd time for anyone to launch an all-electric vehicle company, but there is some demand for a well-powered, high-performance all-electric vehicle. "You've got more awareness and potential interest in electric cars than ever in the history of the automobile, but on the other hand, they still don't seem to actually work," he said. Detroit Electric officials said the company is aware of how the all-electric car market has performed, but the company has "learned from the mistake of others." "Why we think, why we know, we will be able to survive is that we deploy a totally different business model," Lam told reporters following the unveiling. "We focus all our resources … into innovation, design, engineering." Lam said unlike other companies, Detroit Electric has not taken any federal funding and plans to actually contract manufacturers to build the mass-market vehicles rather than spending possibly billions on a new production facility. Detroit Electric, according to Lam, is working with a number of Asian companies on the "contract manufacturing" to require less capital. By 2017, Lam said the company hopes to be selling about 40,000 vehicles worldwide through assembly plants in Wayne County, Europe and the contract manufacturing.
Detroit Electric unveils all-electric sports car in Detroit The limited-edition sports car, named the SP:01, is based off the Lotus Elise's aluminum platform and is set to go on sale in target markets by the end of August 2013. "We want to look at things realistically," Lam said. "We're not looking at our self as growing to the size of GM or Ford." Lam, former Group CEO of the Lotus Engineering Group and Executive Director of Lotus Cars of England, revived the brand in 2008 after leaving Lotus. In its first time around, in the early 1900s, Detroit Electric was both the market leader and the most prolific, going on to make around 13,000 cars – an electric vehicle production world record for the twentieth century, according to the company. Every SP:01 will come with a three year, 30,000 mile manufacturer's warranty with an optional extension to five years and 50,000 miles for the battery. The SP:01 is set to make its global public debut later this month at the Shanghai Motor Show, where officials will announce a "major partnership with a global carmaker."
Embedded above is a video of the unveiling, and continue to check back to MLive.com for more information on the company and vehicle. Re-posted from http://www.mlive.com