Phoenix Tire and Wheel Equipment is synonymous with quality automotive equipment at affordable prices. We set up a photo shoot of the inside of a Phoenix tire changer, shown above with the cover off. We've labeled some of the highlights above. These tire changers feature quality components:  metal air valves rather than plastic, a bead breaker cylinder built to last with 5500 lbs of force, and a smooth-running motor and transmission (no vibration) that are capable of transferring ample power to handle even larger wheels, such as Ford F350.
Foot control pedals operate metal air control valves structured for long trouble-free operation, unlike many higher priced products that use plastic valving, but charge a premium price, perform no better, and do not last.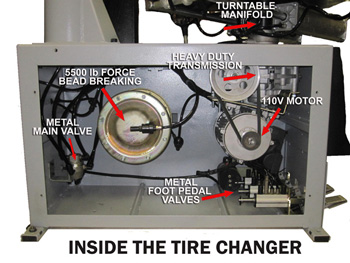 The top of the machine uses a large turntable (24″ or 26″), thick and rugged to handle large wheels. Behind the wheel clamps there are air jets, the part of the bead blaster which assists in seating the bead for mounting tires. The air supply tank is housed in the upright tower, eliminating the need for an exterior tank. The adjustable air regulator and water trap is mounted beside the automatic oiler, which is necessary to keep the machine lubricated – where there is compressed air, there is often moisture. The oiler drips oil into the machine each time you use a foot pedal function, spreading lubricant throughout the system and limiting wear on parts. It is easy to fill: just spin off the reservoir, on and off in a minute. Strong large cylinders under the turntable move the rim clamps in and out and provide a solid grip on wheels. The steel duck head — which removes and installs the tire on the wheel — is lined with plastic inserts to protect against damage to wheels.
Included as a standard piece is an all-plastic duck head for installing when working with fragile, high-end wheels. Other brands charge for this as an option, usually $70-$100.
In closing, comparing Phoenix equipment with the big names you will learn Phoenix offers the same quality at a lower price (no big food chain to feed). We also offer better service; when you call, we answer. You won't need to leave a message or pay ridiculous prices for replacement parts. Give us a call at 603-234-2612 if you want to learn more about this equipment. We've got a lot of happy customers!

---
Thanks to Clark Heintz tools & equipment American Diesel Performance LLC is set up for wheels and tires packages! Absolutely great equipment for the price! Already thinking of what to order next from you guys!

-Mike, American Diesel Performance LLC
Oak Hill, Florida

---