We are proud to announce our newest manufacturer, Wilton, a subsidiary of Walter Meier. We have just loaded Wilton vises to our website, which include Tradesman and Mechanics vises. I will post some photos of the vises we currently have in stock here at the shop. These are awesome products, solid and well made...and well-made in the U.S.A, I might add! Below is a little detail about our featured Wilton products.
WILTON® TRADESMAN VISES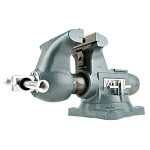 A:
Steel Pipe Jaws:
Fixed Jaws Hold Up to 3-1/2" Pipe B:
Max Jaw Capacity:
Up to 7" Jaw Opening For Jobs Demanding Maximum Holding Capacity C:
Reversible Jaw Inserts:
Standard serrated jaws for extra grip or smooth to prevent marring on softer surfaces
WILTON® TRADESMAN - SWIVEL BASE
Stock Number Model Jaw Width Jaw Opening Throat Depth Pipe Jaw Capacity Ship Wt.
63199 1745 4-1/2 4 3-1/4 1/4 – 2-1/2 42 63200 1755 5-1/2 5 3-3/4 1/4 – 3 53 63201 1765 6-1/2 6-1/2 4 1/4 – 3-1/2 73 63202 1780A 8 7 4-3/4 1/8 – 3-1/2 109
TARGET USERS
• Tradesman • Maintenance Shops • Construction Sites
WILTON® MECHANIC VISES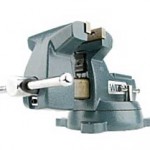 A: 30,000 PSI Ductile Iron Body:
Heavy-Duty Castings Are Built For Rugged Use and Extended Life
B: Lifetime Lubrication:
Grease is Permanently Sealed In For Trouble-Free Service
C: Hi-Visibility Yellow:
Conforms to OSHA standards for Physical Hazards Regulation #1910.144
TARGET USERS
• Professional Mechanics • Automotive Maintenance • Maintenance and Repair
Stock Number Model Jaw Width (In.) Jaw Opening (In.) Throat Depth (In.) Pipe Jaw Capacity (In.) Ship Wt. (Lbs.)
WILTON® 740 SERIES MECHANICS VISES - SWIVEL BASE
21300 744 4 4-1/2 3-7/16 1/4 – 2 37 21400 745 5 5-1/4 3-3/4 1/4 – 2-1/2 50 21500 746 6 5-3/4 4-1/8 1/4 – 3-1/2 64 21800 748A 8 8-1/4 4-3/4 1/4 – 3-1/2 89