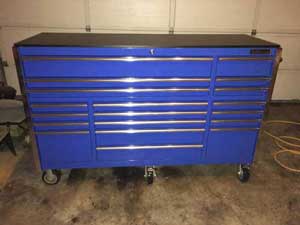 When we develop new products under our own brand name, it's always a challenge to get the word out. Clark is a former top selling Snap On employee, so this isn't his first rodeo. He understands customer needs and has been working hard to develop a toolbox line that offers great quality, added features, and a price that works for everyone.
Our CRX Series toolboxes are built by Extreme Tools. They are a modified version of Extreme's RX Series. We've upgraded a number of features and kept the price low....win-win! But getting the word out is another story. People gravitate to brands they know. We all do that. Tried and true tends to win out. Which is why we were so happy to stumble on this great review on Facebook, posted by one of our customers about his new CRX Series 72" toolbox, purchased through us in the spring.
John posted the photo above and writes: "Just unboxed my new toolbox! Extreme Tools. Wow it is so nice I wasn't sure what to expect since I've never seen anyone with this brand. But if your in the market for a new box this is 3x the box for the money compared to anything else. Very impressed. I'll leave the website I got it on they have the best prices trust me I researched for about a month. And free shipping!!!" https://www.nhproequip.com
What a great endorsement of this toolbox! And as another added testimonial to the top quality of this box, here is part of the posted comment below the post: Person#1: That thing looks just like a snap on lol [he posted photo of a snap on box] Our customer: They are very close and in some ways they are rated better than snapon. And 1/4 the price Person#1: Ya that box I pictured above is 7 grand Our customer: Ya this one is the exact same as a classic 96 for $1900 they have one just like the epic line for $3200 I think. Where I bought this they don't have sales tax and free shipping so crazy. More info on this 72" rolling toolbox, about the CRX Series toolboxes and how they compare to Extreme Tools.