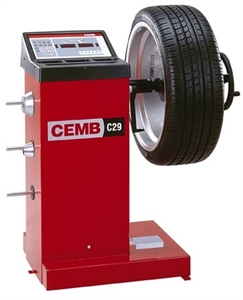 CEMB is a top manufacturer for many major wheel balancer labels. Their wheel equipment is perfect for gas stations, and small and medium size garages requiring basic computer wheel balancing for cars and light trucks. The C29 mobile wheel balancer balances steel and light alloy wheels of cars, light trucks, motorcycles, and scooters (with optional adapters) and it comes to you fully assembled. Here are a few of the features of this economical wheel balancer: It includes Microprocessor-based hand-spin balance (without motor), Quick Standard Nut Mounting, a foot brake for exact placement of wheel weights, Menus for quick selection of ounces to grams, inches to millimeters, and unbalanced thresholds .1 or .25 ozs. This balancer also features an optimization program for compensation of rim and tire unbalance. Along with self-diagnosis and self-calibration, it is built to offer mobile wheel balancing, with its unique size, weight and dual power supply. With Manual Data Entry options, it also has a Dual Operator Program. Another nice feature is its "Static" program plus 4 ALU programs for PAX, light alloy or different shaped rims. And the finishing touches - it has a one button split and hidden weight program, as well as a 4 compartment weight tray. This wheel balancer is chock full of all the features a garage would need.
CEMB C29 Mobile Wheel Balancer Technical Specifications
Power Supply: 110 VAC/12DC Max. Power absorbed: 0.03 Kw Shaft Size: 40mm Balancing Speed: < 100 rpm Balancing Accuracy: < 1g Rim Diameter: 10" - 30" Rim Width: 1.5" - 20" Maximum Wheel Weight: 165 lbs or (75kg) Operating Temperature: °F 32-113 (°C 0-45) Average Cycle Time: 6-8 seconds Packing Dimensions: L58" x W43" x H59" Gross Shipping Weight: 211 lbs Financing options are available. Check out the C29 Mobile Wheel Balancer on our website for more info.