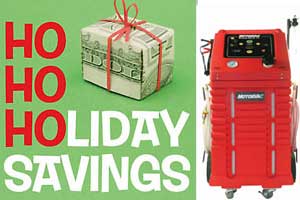 We currently have on promotion MOTORVAC flush machines! These units are BRAND NEW, unused units that were used as store display models and they are now on sale - check out the huge savings below! Know a mechanic who needs one? Here's the perfect Christmas gift and it's on sale!
1.
Motorvac 500-1125 TransTech IV 2 in 1 Automatic Transmission Fluid Exchange System
is Inline and Dipstick Capable, allowing for the two most common methods of ATF exchange from a single machine. With both Inline and Dipstick services together in one cabinet, TransTech IV occupies reduced floor space with minimal investment while providing service to a wider variety of vehicles. List price $4,195
Selling for $3K
Features include: * Automatic Inline Exchange - Connect to a transmission cooler line and press one button. Walk away until the service is complete. * Dipstick Exchange - A convenient dipstick tube exchange requiring no tools or adaptors. * Drain Pan Feature - Allows operator to drain transmission pan for a convenient and mess-free filter change. * Transmission Cooler Flush Feature - Allows operator to flush transmission cooler and cooler lines. * Patented Level Synchronization - Ensures the transmission cannot be under or overfilled. * Automatic Bypass - Ensures that transmission will not run out of fluid during the exchange process. * 26 Quart (24.6 L) New Fluid Reservoir - Allows user to service large capacity transmissions. * High Volume Pump - For rapid and efficient service. * Compact Cabinet - Designed for ease of storage. * Complete Adapter Kit - For servicing most domestic and foreign vehicles.
2.
Motorvac BrakeVac II offers a complete Brake System Flush in 10 minutes, and includes pressure and vacuum assist, ensuring quick operation.
List price $2,495
Selling for $1,600
Motorvac BrakeVac II Features: * One person operation. * Adjustable pressure regulator controls operating pressure. * One gallon fluid tank & removable waste tank allows for multiple services. * Drain switch to empty new fluid tank for changing to different brake fluids. * Extra long 10 foot pressure hose with quick disconnect coupler assures full lift extension. * Easy to view tank allows for fast visual check of fluid in the reservoir.
3. Motorvac Coolant Clean MCF-5100 Professional Coolant Flush Service Center features a complete coolant exchange in less than 15 minutes.
List price $2,795
Selling for $2K
Motorvac Coolant Clean MCF-5100 Professional Coolant Flush Service Center Features: * System now Allows for Both Static and Dynamic Operation * One Multi-Function Switch Operation * New On-Board Waste Tank has a 28 Quart Capacity * Unique Vacuum Switch Allows for Cooling System Depressurization * Easy service filter
UPDATE: THESE UNITS HAVE BEEN SOLD