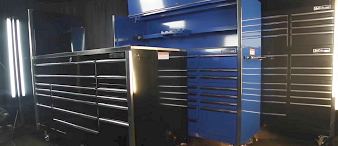 We have lots of tool boxes in stock right now, in preparation for the holiday! Our biggest sellers are our own CRX Series, developed with the customer in mind! We've taken Extreme Tools RX Series and added several upgrades! From higher drawer capacity to adding durable rubber liners to the drawers, these boxes are on a par with the name brands, for a fraction of the price! In 55" options, our 55"W x 25" D tool box cabinet is currently $1579. Need this box to have more depth? You can order a 55"W x 30"D option for only $2189. Hutches available and can be sold with these boxes as a set. The choice is yours!
For 72" tool cabinets, our CRX722519RC ($2199) and CRX723019RC ($2749) cabinets are perfect for home or shop use. The only difference in these two cabinets is the depth - so you can choose 25"D or 30"D and customize it to your liking - if you need a top hutch or chest, we have them!
Call us today at 603-234-2612 or visit us at 1298 Rte 3A Bow, NH.