We are now carrying a new Plasma Cutter made by Steel Vision Tools. This portable and extremely efficient plasma cutter, includes adjustable air regulator, 12 ft Viper torch and return lead, starter consumable pack, and an easy-to-follow operation manual.  Right now, the introductory price is only $500, which includes Free Shipping and a 3 Year Warranty.

Features Include: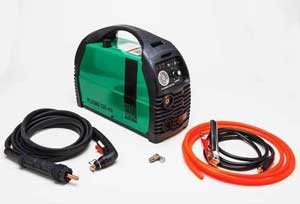 DUAL VOLTAGE 110V-230
3/8" CUTTING CAPACITY ON MILD STEEL
ADJUSTABLE AIR FILTER REGULATOR
AIR FLOW PRESSURE-75PSI
AIR FLOW RATE-6CFM
35% @ 45 AMP DUTY CYCLE
IP21S RATING FOR ENVIRONMENTAL/SAFETY PROTECTION
LOW FREQUENCY ARC METHOD
EFFICIENCY-85%
RATED INPUT POWER - 5.5KVA
COOLING METHOD-FAN COOLED
LIGHTWEIGHT MACHINE - ONLY 20.25 LBS

CALL 603-234-2612 WITH ANY QUESTIONS.