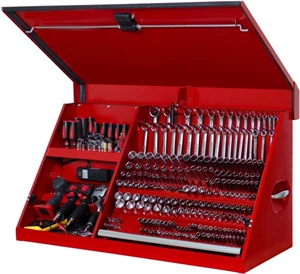 We've just added the latest and greatest offerings from Extreme Tools and wanted to share with you some of the newest additions to their line (and now ours!) that we are really excited about. The image above is of the
41" portable workstation (product # PWS4100TX).
Visit the link and view an awesome financing option, too. The Extreme PWS4100TX 41" Portable Workstation measures 41"W x 17-3/8"D x 21-1/2"H. It is made of 16 gauge steel construction with welded seams, and comes with a power tool rack with built-in power strip. This versatile workstation holds and organizes your most needed tools: the wrench rack holds 17 SAE & 22 metric combination wrenches, screwdriver/nut driver holders, (64) 1/4" deep & standard socket pegs, (66) 3/8" deep socket pegs, (28) 3/8" shallow socket pegs, (64) 1/2" deep and shallow socket pegs, and (47) screwdriver/ ratchet drivers & extensions. The socket tray even lifts to access more tool storage underneath. This workstation also features a lockable lid which secures tools in place when it's closed, and it has a gas spring that raises the lid when unlatched for easy access. Heavy-duty side handles make moving this workstation an easy process around your shop or garage. It features weather stripping, which creates tight seal against dust and moisture, for long-lasting life. Textured finish is available in black or red (*shown above), and is weather-resistant. 30" workstations are also available, and both of these great products are currently in stock!