PHOENIX PWC2950 TIRE CHANGER FEATURES:

**Includes an all plastic duck head for installing when working with fragile, high end wheels --normally an option with other suppliers All metal air valving throughout machine
Now capable of accepting helper arm (optional)
Easy fill oiler, limits wear on internal parts
Air filter/quick drain water trap with adjustable regulator
Heavy duty no flex 28" turntable, 110 volt electric power for forward and reverse, air power for clamping
Self Centering Clamp with stepping function
Quick Inflation Device for tubeless tire (bead blaster)
Precise inflate / deflate air gauge and hose
Rubber Padded Mount/Demount Tool (duckhead)
Includes reservoir for rubber lubricant
Includes plastic protectors for turntable clamps
Optional adapter for motorcycle
Angle of duckhead can be adjusted
---
SPECIFICATIONS:
Power Supply: 110V
Motor Power: 1.5 Hp
Air Supply: 0.6 - 1.0 mpa
Rim Clamping Range: 12 - 26" outside 14" - 28" inside
Bead Breaker Force: 5500 lbs
Max Wheel Diameter: 43"
Max Wheel Width: 15"
Shipping Weight: 680 lbs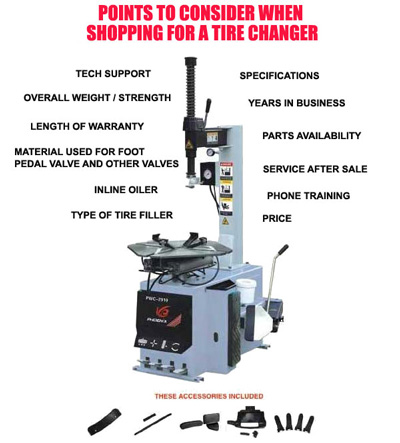 TECH SUPPORT:
Will you have telephone support 8 am - 5 pm Monday - Friday? During your warranty period, this service is free.
WEIGHT/STRENGTH:
Compare the weights of the machines you are considering purchasing. Lighter weight machines generally are made with a weaker frame and weaker parts which lead to failure.
LENGTH OF WARRANTY:
One year warranty is a standard. Is your supplier confident enough in his product to offer an extended warranty?
FOOT PEDAL VALVES AND INNER VALVING:
Ask about the materials used to make the valves inside the tire changer. Metal valves last longer with much leaking and overall trouble.
INLINE OILER:
Where there is compressed air, there is moisture. An inline oiler is necessary for many years of service.
TIRE FILLER:
A clip-on air hose leading up to a filler box and gauge on the machine prevents your hands from being near the tire during inflation. Less expensive inflators have a filler gun and gauge (one piece) that require hands on top of the tire at inflation.
SPECIFICATIONS:
Consider max and min wheel diameter, max wheel thickness, overall tire and wheel diameter, bead breaker, etc.
YEARS IN BUSINESS:
Go with a business who is consistent with the same business and has a history of customer service and has proven it over time.
PARTS AVAILABILITY:
Does the company stock parts, can they ship them without delay, can you reach them with a phone call.
SERVICE AFTER THE SALE:
Can you depend on service and help after the sale? Make sure you buy from someone who has a store and warehouse with inventory to support your needs after your purchase.
PHONE TRAINING:
You may need to learn how to set up and use the tire changer. When you buy, make sure training is offered for your new machine.