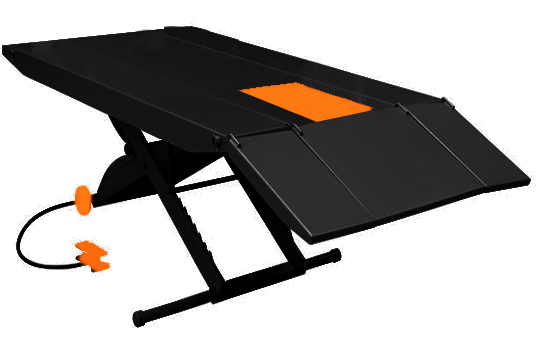 So, the Pro 1200 Motorcycle Lift has really taken off! We introduced this new lift in August and we've been really pleased with the response. Incidentally, if you've purchased one from us,
we'd be grateful for a review on our website
! Reviews really guide customers (as they should!) and we've gotten an incredible amount of positive feedback (a big thank you to all of you who took the time to call us and let us know!). Our introductory deal to the public brought us sales that truly surpassed our expectations. If you called in and placed an order with Clark, and are interested in leaving feedback about this lift, we'd be so grateful! It is a VERY quick process! Simply visit our
home page
, click the "Register" link in the top right-hand corner, and fill out the name and address field, then set up a password...and that's it! You now have credentials to log in and leave feedback for the
PRO 1200 Motorcycle Lift
. We thank you so very much for taking the time to do this. Since we've had such HUGE response to our Pro 1200 motorcycle lift offer this summer (we've taken a considerable amount of orders, as our next shipment is due to arrive in October), we've decided to add a new package to make shopping a little easier for someone who needs to work on their ATV, Tractor, or Snowmobile...So we've packaged the PRO 1200 Power Equipment Lift kit, which includes side rails, loading ramp and pneumatic foot pedal. A 1 year warranty and your choice of black and orange or black and red color schemes complete the package. Call Clark Heintz Tools & Equipment LLC to find out more about the
PRO 1200 Power Equipment Lift
.