Products tagged with '4 post lift'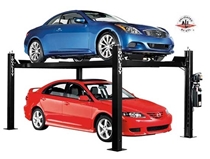 The Q4P09H 4 Post ALI/ETL Certified Lift has 9,000 lb lifting capacity. With commercial grade design, Q4P09H features Manual Locks.
Quality Lift's Extended Width Home Storage / Light Duty Service 4-Post Lift is an ALI/ETL Certified Lift, utilizing Quality's Commercial Grade Design and offers wider drive through clearance.