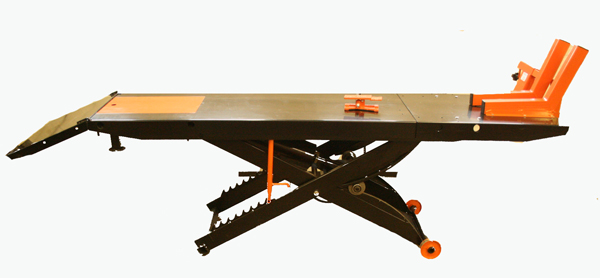 Well...it's finally here! We've taken the better part of a year of research to introduce this high-quality-at-an-affordable-price motorcycle lift to meet the expectations of our customers who are trying to work within a tight budget. We believe are providing an excellent product for a very modest price, and we are very confident that the construction of the the PRO 1200 will meet and surpass any expectations for a lift in its price range.
We are happy to introduce the PRO 1200 to our customers at this time. We spent a lot of time implementing manufacturing changes in a few areas, in an effort to optimize some features of the product and accessories. Our intentions were to get the very best value for our customers and we have accomplished that. We deliberately placed a lower price on the lift so that friends would tell friends and we're quite confident that once people see the product, the word will spread. As a motorcycle lift dealer for 15 yrs, we know lifts, and we are proud of this package that we offering to the public. The PRO 1200 lift is an air powered lift table with foot pedal controls.
It features a front wheel vise to secure vehicles with an adjustable front stop, and a safety locking system with 7 positions to secure your lift in place while you are working on it. This lift also includes a single, heavy-duty pneumatic cylinder and sealed roller bearings for smooth operation. A detachable drive on ramp makes access to your bike that much easier. The low angle ramp protects bikes as they are rolled on and off the lift. The greasable shaft includes grease zerks on the axle, which provides a smooth rolling action. This handsome lift has a compact portable design, making it easy to move and store, and it is topped off with a powder-coated finish for durability - choose red or orange accents. 12" Side Extensions, which expand the lift table to 48" wide
Financing options are available. There is no sales tax. We are posting a video demonstrating the lift and all of its features very soon. We've filmed a demo of this lift raising and lowering 1,500 lbs. We believe the best way to show our customers what this lift can actually do is to post a video. Then you don't just have to take our word for it. You can see it for yourself!  Please call Clark Heintz at 603-234-2612 for a quote or with any other questions you may have.