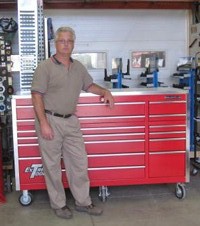 Clark Heintz has automotive tools and equipment in his blood. Following in the footsteps of family members who were in the Snap-on business out in California, Clark and his brother decided to jump on board, as well as Clark's nephews.
In total, there were seven Heintz family members at one time working for Snap on--a family dynasty built around auto tools and equipment. Clark began his career with Snap-on in Concord, NH in 1974. A top dealer for 34 years, he was one of only 7 dealers in the state of New Hampshire when he first started. "It's grown quite a bit since then," he says with a laugh. The job suited him, and it was obviously a good fit. He made a name for himself during his time with Snap-on, as a "Top 100 Dealer in the World" a whopping 27 times during his 34 year tenure, peaking as #3 Dealer in the World in 1998.
He also served in other roles, including as a Snap-on Field Manager for 3 years, as well as Chairman of the National Dealer Advisory Council for 9 years. With such an incredibly successful track record, I had to ask him why he left a thriving business as a franchisee to open his own business. "With all the changes Snap-on was experiencing, I got an acceptable offer and acted on it," he states. Snap-on helped pave the way for the transition to independence. "Along the way, Snap-on gave franchisees the option to have more than one van," Clark goes on to explain that many Snap-on dealers might typically have two vans at the most. "I had, at one time, as many as 5 vans, and had 3 vans for 9 years, which necessitated a bigger facility to house inventory, so I bought the warehouse in 2001."
With more work than he could handle by himself, he had as many as six employees at one time, including a full time mechanic, an inventory manager, as well as an assistant. Having the warehouse helped propel him toward his own business, but he was also motivated, in part, because he felt he could get a better value on products for customers. "By branching out and becoming independent, I've found that we can often offer the same product and same quality for less money," he says.
Clark Heintz Tools & Equipment, LLC officially opened in 2008. Though his Snap-on experience has certainly carried over to his newly-found independence, he also learned quite a bit as he went along. "I learned the tool and equipment business thoroughly, as well as repairs, and product knowledge. I learn products from customers, and see what products are available, who makes them, learn features, benefits, the way products work and how best they would help the customer."
He further explains, "There may be three tiers of price range for a product group, and you can determine the customer's particular needs and price point. For example, air compressors: a homeowner or hobbyist may want less than a commercial grade product but a shopowner would need a professional shop application." He is a big believer in the concept of listening to and understanding his customers. Once he's able to get a handle on their goals with respect to the products they are interested in, he can guide them in the right direction. So a lot of the learning comes from focusing on the customer and their needs and wants.
"The big thing now is, people go online to do their shopping. We try to give them the best price we can and be competitive to the lowest online prices. We also want to have it in our inventory, sell it the same day, then after the sale, service the needs someone might have, for additional product or for those things that, over time, need service. We are not just an online store, we have a shop, the service, and the inventory. We always encourage people to call us; we want to develop a relationship with them and encourage them to come back." With a wide range of products, great manufacturer connections, and speedy shipping options, not to mention onsite inventory and service offerings, Clark Heintz strives to earn repeat business from his customers. Offerings at the shop include a complete line of shop equipment and anything a technician might want for his tool set, including great buys on tool boxes.
Visit NhProEquip.com Author's note: As Clark Heintz's Web Editor, I thought it made sense to write a piece about Clark and his professional journey (and all of his achievements) in the world of tool sales. After learning about Clark's great success while with Snap-on, I wanted to let the masses know who they were dealing with... this guy is a consummate professional. Though he was a little bit hesitant to list some of his achievements publicly (self-serving?!), I felt strongly that by stating these facts, it would validate his presence to those who are considering buying from him online. He was a good sport about it, and let me interview him with the understanding that getting his profile out there in Google can not only help people find him better, but validate his integrity in the auto tools and equipment world.