A motorcycle lift is ideal for some maintenance activities like changing fluids or just washing the motorcycle from tail to tip. Motorcycle Lifts are gaining more popularity as more bikers are taking responsibility of maintaining their bikes. As a result, various models of lifts are now available. There are different models for sports bikes, street bikes, race bikes, cruisers, choppers and custom bikes. A motorcycle lift with the optional extensions can be used for many different recreational vehicles such as four wheelers, ATVs, jet ski, snowmobile, as well as non-recreational vehicles such as a riding mower. The main difference between the various lifts is the weight capacity that it supports and the style of the wheel frame, which has to be considered very carefully as using an incorrect type of lift could scratch your bike or could also damage the brakes with the wrong type of wheel secure. Two types of motorcycle lifts available are: * Air Lift * Air / Hydraulic Lift Motorcycle lift ratings can vary, depending on some of the following factors. You definitely want to be sure you are buying what you need, and what will work best for your bike, as well the physical capabilities of your body! Be sure to keep these things in mind when you are considering buying a motorcycle lift: * How high you want the platform to rise * Where will the lift be used * How long will you be leaving the bike on the lift * What type of security you require * How big is the bike The biggest attraction to owning your own lift is the ease of working. Lying on the floor is uncomfortable, and maneuvering is difficult, not to mention hard on the back, knees, joints. Once you've used one you'll wonder how you ever got by without one. How do you justify the expense? The comfort factor alone makes it worth spending the money on a lift. And performing your own maintenance tasks saves you from having to take your bike to a professional. You'll see the return in no time, not to mention the relief you'll find not having to bend over and kneel down. If you've ever considered purchasing a motorcycle table lift for working on your bike then we recommend several. To buy motorcycle lift you should always research the possibilities.
We recommend PRO 1200 Motorcycle Lifts, Elevator 1800 Lift Tables, and Handy Lift Tables. To prove they are our top motorcycle lift picks, we are a dealer for all 3 to and have linked our pages to them for your convenience (Editor's Note: Since this writing, we've stopped selling Handy Lifts. We find the other options are much more affordable, so we've continued our business selling these lifts instead. We have a 'higher end' model to offer to people who are really serious about quality. We stand behind the quality of ALL of these lifts. All are rugged and a good buy for the money. We've made videos on each of these lifts, demonstrating features and durability. Make sure you watch them, they are worth checking out.
1. PRO 1200 MOTORCYCLE LIFT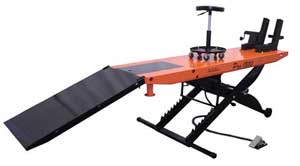 The PRO 1200 Motorcycle Lift is our #1 choice for motorcycle lifts, hands down. Why? Well, first we'll look at pricing, features, packaging, and then we'll compare them. PRO 1200 (basic package) is priced at $769. Features of this lift include Pneumatic operation: Air powered w/ foot pedal controls; 7 Position Safety Locking System: secures lift in place while working;  Detachable 40" Drive-On Ramp: Low angle ramp protects bikes as they are rolled onto and off of the lift; Rubber lined Front Wheel Vise: secures vehicles and includes adjustable front stop; Pullout / Drop Through for Rear Tire Change: Allows access to rear of vehicles and makes wheel service easier; 3 Stage Adjustable Front Extension: Chopper extension allows long bikes to fit onto the PRO 1200 Motorcycle Lift. Make the table 84" long, 97" long or 110" long; Single Heavy Duty Pneumatic Cylinder: Heavy-duty construction w/ sealed roller bearings for smooth operation; Greasable shaft: Grease zerks on X frame maintains smooth operation; Powder Coated Finish: Powder coat finish for durability with red or HD orange accents; Compact Portable Design: Makes the PRO 1200 Motorcycle Lift easy to move and store. The basic package includes a 1,200 lb capacity lift (watch our demo video of this lift raising and lowering 1,500 lbs), plus a 1 year warranty. Above, we linked to a video of this lift holding a certain weight amount. Did you catch the number of lbs? We hope the ruggedness of this lift speaks for itself in that demonstration. Lastly, don't take our word for it. Check out our customer reviews of the PRO 1200 Motorcycle Lift here. The newest in the PRO series line of motorcycle lifts are designed for even higher weight capacity for heavier, larger vehicles, which puts them in their own class. This lift is perfect for UTVs, trikes, spyders, even golf course and road paving equipment. This heavier series includes a versatile quartered side extension kit with each package, to accommodate trikes, spyders, and more. These lifts can lift it all!
The PRO 2500 UTV Motorcycle Lift includes a 60" side extension kit. They are both air/hydraulic powered, and include a rubber-lined wheel vise. This lift includes free shipping.
2. ELEVATOR 1100 AND 1800 LIFTS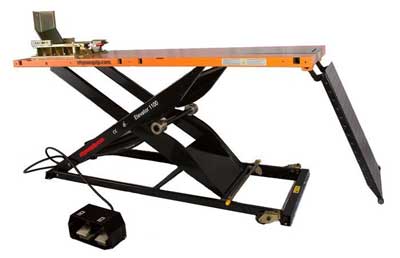 Elevator 1100 and 1800 lift tables are designed by NHProEquip. These lift tables were manufactured to the highest degree of quality. We left no stone unturned, because we wanted to offer people a lift that would stand the test of time, and be top of the line for any professional or DIY-er who wants to work on their motorcycle, sled, atv, utv, trike or any other vehicle without having to pay someone else to get it up on a lift. These lifts are built beautifully, with every detail in mind. Elevator series lift tables are designed and crafted to last for years. These lift tables are not your average products. The quality, workmanship, and materials used in manufacturing are of the highest level.
Elevator lift tables are made with thick 10 gauge steel, rugged enough to handle the heaviest vehicles. We start with a quality frame and rectangular base, a footprint that ensures safety in lifting and safety in working. The base frame is fitted with a tow bar that accepts a wheel dolly, the base frame is also pre drilled with to accept a wheel kit which allows for easy placement and storage. A safety locking mechanism is built into the base with 4 and 5 settings, depending on the model, to adjust to your height. Includes a completely adjustable quick lock wheel chock allowing the table to handle bikes of all kinds. Front and rear drop down panels are a huge asset when performing tire service.

This lift includes a 2 year warranty and is built beautifully. There is no better lift built anywhere; both the design and craftsmanship will blow you away.
There are several packages to consider for the Elevator 1100 and the Elevator 1800 lifts. The Elevator 1800 motorcycle lift with sides is a top choice for our customers. In addition to motorcycle lifts, we also offer, golf cart lifts, snowmobile lifts, lawn tractor / mower lifts, atv/utv lift. Your choice as to whether you want sides. We wanted to make attractive, affordable packages for all powersport needs and vehicles.
Here is a review from our customer Bryan in NC:
"It's awesome!! It is a very well built and smooth fast lift and lowering! I love it!! Great lift, great price and fast shipping. It's double duty of any other lift I've used or researched. Very sturdy with a heavy utv or atv on it and its the easiest to add and remove the extension width panels ! No tubing or pins to put in and take out to add the atv wide panels and the drop outs are very solid and easy to operate. I am just looking for more projects to work on on the lift!! Its so convenient and saves my back!! Thankyou NH
Lifts ! Best tool in my shop!"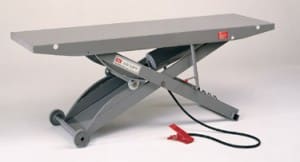 3. HANDY MOTORCYCLE LIFTS Presently, Handy manufactures goods for the power sports and power equipment markets and the recreational vehicle market. Its shop products include electric and air powered lifts and motorcycle stands. Their lift tables are used both by individuals and commercial use alike. While some may prefer the electric screw type, air powered equipment is also a great alternative. If you are doing your own work, chances are you've already got an air compressor, so why pay the additional cost for the electric? Handy 16900 Sam2 1000 Motorcycle Table Lift The Handy 16900 lift is versatile. Its state-of-the-art features were actually designed by the people who use the lifts as well as motorcycle techs. This Handy lift features include drop down front and drop down back, and for optional equipment, they offer quad side rails rather than half side rails, enabling them to come apart in fours, a nice innovation for 4 wheelers, 3 wheelers, etc. It also has 93" x 28" deck which is longer and wider, 1000 lb capacity, and lifts to 35". This Handy Air Lift is the newest Handy lift on the market. This Handy motorcycle lift is designed to lift bikes up to 1000 lbs. It was developed for bike professionals who need a longer (93") and wider (28") work surface, with the convenience of double drop panels (15" x 28") for easy maintenance. The Handy Sam Lift2 has a maximum height of 35" and a longer ramp of 40" for lower-built bikes. As of this writing, the Base Model starts at $1,139 (does not include vise or side rails). Attach the 14476 CV 17 Cycle Vise to the front drop leaf or position it back on the table for rear wheel maintenance. This lift was made in the USA. (Price with vise - $1,289.10) Specifications: Capacity - 1000 lbs. Length - 93" Width - 28" Max. Height - 35" Min. Height - 7-1/2" Work Surface - 93" x 28" Power Source - Air 90 to 120 psi Ramp Length - 40" x 28" 2 Drop Leafs - 15" x 28" Weight - 345 lbs. Available Colors: Powder Coated Gray Deck with Black Underframe Handy SAM 1000 Lift  Handy Sam 1000 Motorcycle Lift[/caption] Another option is the Handy SAM 1000 motorcycle lift table, which has a longer 84" length. Owners of longer vehicles will enjoy that extra length and probably find that it's necessary. And remember that a shorter motorcycle will fit on a longer table, but not vice versa. You can cover all the bases with it. The Handy SAM Lift is the same as the standard air lift, with additional features of a dropout panel and 84" length for working on those longer motorcycles. Handy 1000 Handy SAM Lift Features: * Handy S.A.M.'s specifications include a safety-rated 1000 lb. capacity, 24" width, 30" maximum height, 7" minimum height, and weight of 330 lbs. * Handy 1000 S.A.M. Handy Lift also offer several attachments to customize your S.A.M. 1000 Lift, such as various handy lift extensions, including as a 14476 CV 17 Cycle Vise, 16002 8" Side Extensions , 12" Side Extensions, 16011 13" Front Extension, 10732 Lift Dolly and a 16010 Tool Tray. The drop out panel at the rear of the table is a great option. This allows the rear wheel to be more easily removed on motorcycles that don't have a single-sided swing. The drop out panel would be beneficial for anyone that has a bike with a full rear fender that makes getting the rear wheel out very difficult. Just position the rear wheel over the drop-out panel, support the bike, remove the panel and you'll be able to lower the wheel out the bottom. If you are willing to pay the money for a lift, you might just want spend a little extra for all the amenities to make life that much easier! There are six other horizontal positions available in between fully lowered and fully raised. These positions are set with the table locking mechanism for a total of 8 possible heights. Once the table is set to the desired height, it is lowered down onto the locks and the air line can then be disconnected for other uses when the motorcycle is being serviced. This Handy lift table may be raised and lowered with a foot pedal. It is rocked one way to raise the table and the other to lower the table. This leaves you with both hands free should you need them. The required air pressure is only 90-100 psi with 100 being the maximum allowed. Handy states that any compressor that develops the required pressure will be adequate, since it requires very little volume to raise it. This lift table should work fine with any small portable compressor that's capable of producing 90-100 psi. The Handy Sam 1000 lift is rated for a total weight of 1000 lbs. The price of the Base Model is $999. Add a vise and the pricing is $1149.10 Handy 14472 1500 BOB Handy Lift is longer, wider and taller for your Bike The introduction of Handy 1500 BOB Handy Lift solves numerous challenges in today's professional workshop. The Handy B.O.B. lift has an adjustable height from 10 to 40 inches; lifts 1500 pounds for the fully dressed motorcycles, trikes and quads; and has a drop-out panel for convenient tire changes. Handy also made the lift a full 7' long and expended the width to 28". To further customize the B.O.B. to your needs, you can add 12" side extensions (14473), a 13" front extension (14474), and a 14475 trike extension kit to the lift. Handy 1500 B.O.B. Handy Lift Features: * 1,500 lb. safety rated lifting capacity * 40" maximum height * Work surface of 84" x 28" (not including any extensions) * Drop out for tire changes * 11 gauge steel construction * Air Source 90-100 psi * Ramp length 31" * CE approved The B.O.B. lift is priced at 1,439. It does not include vise, side extension, or front extension.