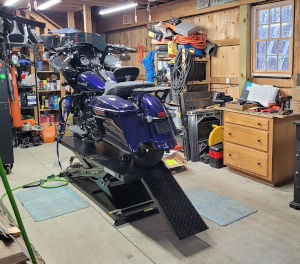 Chris posted this nice pic of his Elevator lift table on Facebook! When we asked him what he thought of the lift, he said, "Love it!" We have many Elevator lift models to suit your needs - whether you're lifting a golf cart, an ATV/UTV or a tractor, we have one that will work for you!
Constructed with thick 10 gauge steel, Elevator lifts are solidly built to take on the heaviest vehicles. The high quality frame and rectangular base creates a footprint that offers the safest work environment. The base frame is fitted with a tow bar that accepts a wheel dolly. It is also pre-drilled with to accept a wheel kit, allowing for easy placement and storage.

The base features a safety locking mechanism with 4 or 5 settings, depending on the model, to adjust to your height.
This lift table includes a 2 year warranty and is built beautifully, you will appreciate its top-notch quality.
We have a wide selection of Elevator lift tables to suit your needs.